By Alexandra Müller, Student of IBIS F
The International Day, that happened this year on the 8th of May, involved many interesting presentations of professors and guests and the highlight of the day were the many booths the students of different semesters presented.
The program started with the presentations about information concerning studying abroad, scholarships, participation and integration and the reports of students that were already abroad. The probably most anticipated presentation was the one of the current Human Resources Director of SAP in Central and Eastern Europe and former IBIS student Sabrina Dick. She gave a very interesting view of the current job market and the possibilities the students will have in the future.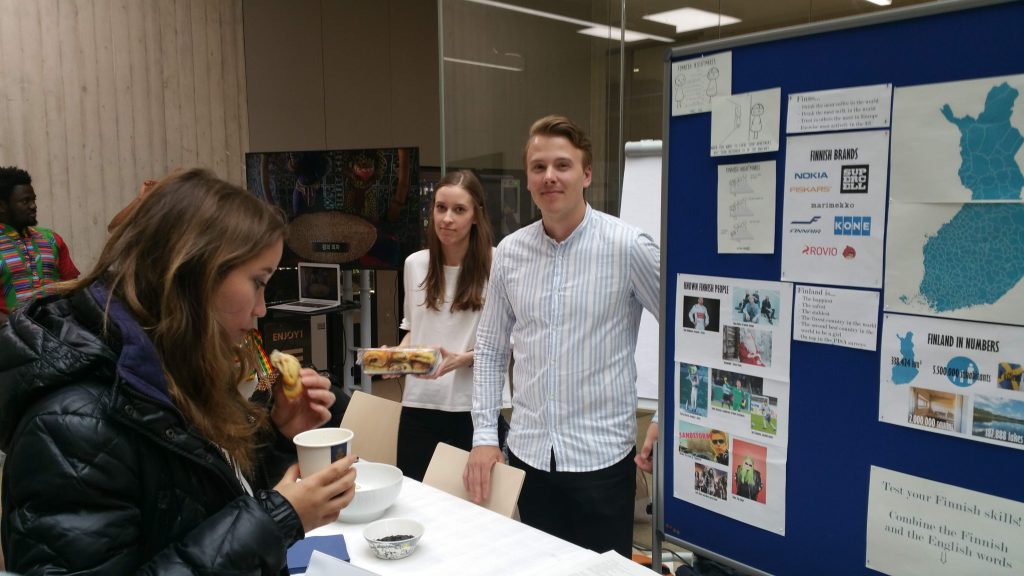 Following the presentations, there were booths displaying various countries, presenting for example their eating culture, their language, geography and art.
Countries and regions involved were: Eastern Europe, Finland, Arabic World, Cameroon, Spain, Germany, Turkey and Francophone World.
There will be a further narration about the preparation and activities of the Francophone World booth, because I was a member of this team. Knowing there was a time limit for when everything should be prepared and ready, the team for this booth split up in different groups to get the various dishes ready (such as a platter of cheese from different French regions) and prepare the dough for the crepes that would be served later, as well as the booth itself.
Decorated with various posters and flags, the movable walls behind the booth split of the working space of the team and the rest of the event.
For the next two hours the team made crepe and talked to various customers exploring the French cuisine and culture. Because it was an international day, students from other countries studying abroad at the university of Heilbronn approached the booth even talking to the team in other languages. After the crowd disappeared and the room cleared itself, the next step was to clean up the booth and wash the dishes.
All in all, it was a very interesting experience not only for the purpose of getting in contact with other countries and cultures, but also for the teams to organise themselves and manage to make an event like this possible.