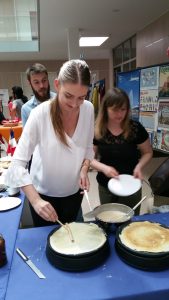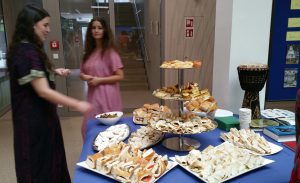 Author: Yann Le Bourlay  Translation: Marvel Yassa
The International Day is an event which was organized by Heilbronn University at the Campus Europaplatz on the 9th of May 2018. It allows different cultures to present themselves not only by international students, but also by students whose parents immigrated to Germany one or two generations ago.
My participation at this day with two of my French friends was a great time I really enjoyed. After having prepared the pancake batter and the cheese plates with the French bread (imported freshly from Alsace thanks to Prof. Dr. Lars Gaiser), we started baking the crêpes (French pancakes) and serving the cheese at our stand decorated in the French style with the Tricolour flag and a lot of posters highlighting the savoir-vire (the French lifestyle).
This half day was also a time to share and exchange with the students at the Russian, Spanish, Arab, and Indonesian stands. We tasted the culinary specialties of each participating country, we listened to a Russian singer and watched the belly dancing Arab girls.
The students and professors had a real interest in our stand. Consequently, we did not have anything left to serve our visitors by the end of the event and many students were disappointed that they didn't get to taste our delicious crêpes.
Furthermore there was a conference about exchange programmes held especially for students who want to go abroad for a semester. Unfortunately, I couldn't participate in that conference but all the feedbacks I got from people who went there were more than positive.
All in all, I recommend the participation at this day to everyone – for both: visitors and participants who would like to represent their country and culture. It is a unique, friendly and pleasing experience!
I also want to thank Prof. Gaiser for giving me the chance to participate actively at this event.