We were in Germany for a week where we were able to check on three universities and Heilbronn was our second stop. We took the train there and when we arrived at the station Mr. Mayer (a student at the University) was already waiting for us there and accompanied us into the city where he told us about the history of Heilbronn and how the center was almost destroyed during the Second World War.
After that we visited a Masters class for which Prof. Gaiser is responsible.
We took part in a roleplay. We especially liked this part of our visit not only because we were invited for ice cream but also because almost all the students of this class were foreigners  that means Germany is also not their home just like us. Although these students were the eldest in the university and also the ones with the most experience, unexpectedly they did not treat us as if we were little kids who knew nothing about life. On the contrary: a business meeting was simulated where Egyptian producers wanted to sell their products to the Germans, and the Masters students asked us for help because we are Egyptians.
At the university we also met two graduates from our school which showed us that Heilbronn University of applied sciences may also be suitable for us.
Our next stop in our Program  was a lecture in Rights which was quite understandable for us since we have already studied these subjects at school.
One of us was even able to answer one of the Professor's  question.
At the beginning of the lecture ther
e was a surprise prepared for us by the professor  which was a video about our city Alexandria through which he introduced the students to us and that wase a gesture that once again made us feel welcomed there.
Afterwards  Frau Schmick gave us a presentation with the title "Studying in Heilbronn" through which we were got to know the university better and were able to consider the many options and opportunities the university has to offer to be our future.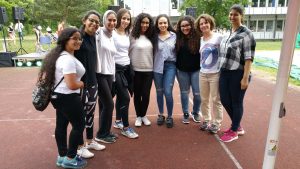 I would also like to refer to the part we enjoyed most about this day which was the sportive evening (see picture above). Thanks to Prof. Gaiser we were driven there privately which was also very comfortable.
There we each got a card where the 7 "Olympic" won games should be registered and in the end if you win them all you get a prize which we successfully managed to get. The prize was presented to us by the student body to which we are very thankful. Finally we returned to our Hotel exhausted but happy.