18 IBIS students with regional focus on the Arabic World participated in a study trip to Tunisia, which took place from the 13th till the 20th of November 2017. Fortuneately, the trip was mostly financed by the State Ministry of Baden-Württemberg, and also by German Corporation for International Cooperation (GIZ). The project manager was Prof. Dr. Lars Gaiser.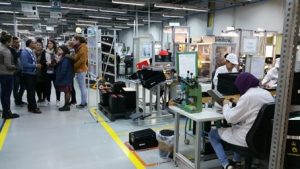 The students received comprehensive insights into the local corporate world during several company visits including the automotive supplier Dräxlmaier, the electricity company Marquardt (see picture above), an organic date factory, a building material recycling unit, and an olive oil mill. The students could chat with several local managers about everyday's challenges and especially about the exports to Europe.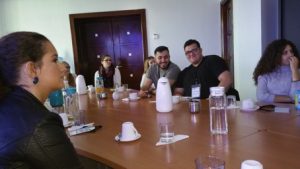 The Excursion participants deepened their knowledge about Tunisia during numerous lectures:
Economy in Tunis after the Arab Spring (Dr. Kamel, Ernest & Young Tunis)
Tunisian-German economic relations  (Dr. Henkelman, German Chamber of Commerce in Tunis)
Doing Business in Tunisia (Dr. Najjar, German Trade and Invest in Tunisia)
Occupational field Diplomatic Service (Dr. Odeh, German Embassy in Tunis)
Women´s Rights  (Frau von Aster, AFART)
Different Aspects about Tourism (during the Tunis Hospitality Symposium)
The students got to know the new partner university Tunis Business School (TBS), which Prof. Dr. Gaiser set up a few month ago. They participated in workshops organised by several university clubs. Four of the participants decided to spend the fall term 2018-2019 at TBS.
Thankfully, the TBS made available a university bus and a driver during the whole field trip. Furthermore, the dean Prof. Dr. Salah Ben Abdallah invited the group to his private palm grove (see picture above).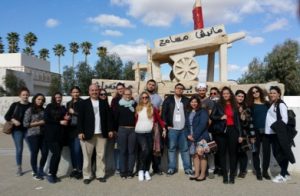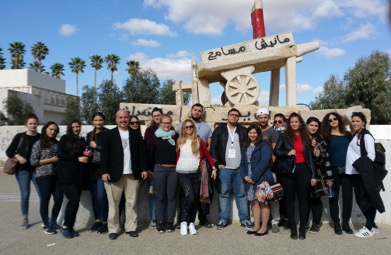 Many socio-economic aspects of Tunis were provided throughout the field trip. Among other places the tour group visited the location where the Arab Spring started (see picture above), a salt pan, the "holy" city of Kairouan and several sites in Tunis.
Translated by Marvel Yassa