♦ By Farah Ashraf♦
On Saturday, the 30th of June 2018, ten Egyptian students were invited to an enriching private excursion by Professor Dr. Lars Gaiser of the Heilbronn University which leaded us to Strasbourg, the largest city of Grand Est region in France and the official seat of the European Parliament.
The ten students had never met until that day and thanks to Prof. Dr. Gaiser, they were able to get to know each other under interesting circumstances. Together they had to take a few trains in order to get to the meeting point in the border town Kehl. On the way they were able to learn more about each other and break the ice.
Once arrived in Kehl, they were welcomed by Professor Dr. Gaiser who then took the lead for the rest of the trip.
First, he invited them to a nice lunch at the Museum of Modern and Contemporary Art where he also told them about the years he spent in Egypt hence the reason he can speak their language.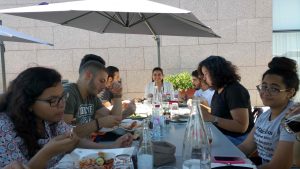 Afterwards the Professor accompanied them to the European Parliament where he had previously reserved a tour for the group to give them a chance to seek out important information about its role in the world of politics. Through this opportunity the ten young students found out all about the important meetings and politicians that come together every month. However, what fascinated the group the most was the famous hemicycle of the parliament which was the last location they got to see during the tour. There the tour guide gave them a chance to take pictures and most group members asked her questions about the parliament. The group left the Parliament with a realistic idea of its importance.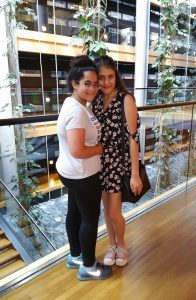 Subsequently, Professor Dr. Gaiser enabled the group to take some time to go shopping at the Place des Halles centre commercial. While the six girls of the group took a look at the available shops, the professor and the remaining four men waited for them at a restaurant where they enjoyed a coffee.
Following the short shopping trip, the group went to have a quick dinner in Kehl where they discussed all the events, activities and memories they had made during the day, thanks to the professor.
Lastly, they had to say goodbye to their professor when he also thanked them for accompanying him on this special journey. Waving goodbye, the group got on the train that took them back to Heilbronn by midnight. Nothing but promises of staying in contact spoken among the group of students, they then parted way to go home. What a day to remember!